Living A Purposeful Life & Lifting Souls: Kristina Papic Embodies Love, Sacrifice & Inspiration Through Her Work As A Recreational Manager At North York Retirement Community.
Posted on July 20, 2021 by Continyou Care
We are excited to publish our 2nd interview in our new Interview series where we go behind-the-scenes to showcase amazing people and the work they are doing within the senior home industry.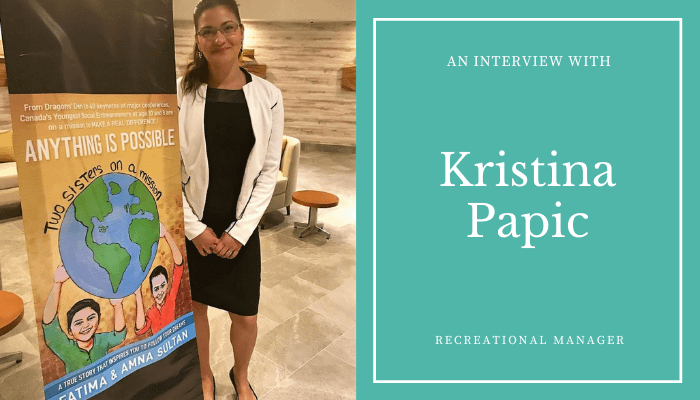 Q. What was the last job you did before you entered the senior home industry?
A. At the age of 13, I volunteered with seniors and fell in love with it. After highschool, I decided to study gerontology and work with seniors in a therapeutic setting. My first job was with Community Care East York and every job since has been dedicated to working with seniors.
Q. What is your role today?
A. Today, I work as a LivingWell (Recreational) Manager and Volunteer Coordinator in a Retirement Community in North York.
Q. What was life like for you from a professional and personal point of view during COVID-19 at the beginning?  How about now?
A. In the beginning, fear, uncertainty and extreme caution were definitely present in my daily work but as we slowly learned information, had the incredible support of our teams and health care professionals, my fear was replaced by knowledge and confidence to know what to do to ensure infection control protocols were followed.   This was while serving our residents and ensuring their emotional, physical and social needs were met. Now, creativity reigns – in every way! Creativity and flexibility are crucial in order to be successful and to ensure that all programs are wonderfully created to provide our residents an opportunity to flourish despite the restrictions.
 Q. What is something you're itching to do once the pandemic has been controlled safely?
A. Work wise, a million things – to host big events celebrating all the holidays, to throw lavish theme parties, host amazing lectures on engaging topics with a  full lecture hall,  to go to the theatre/concert, or enjoy a wonderful meal with our residents! I want to go back to visiting our favourite places: Stratford, Shaw Festival, Niagara falls, and all the beautiful small towns we visit every year – St.Jacobs, Elora, Niagara-on-the-Lake and many more! 
Q. What does your typical day look like? 
A. A typical day is full of wonder and no day is like the other! From group programs via Zoom that cater to the residents' physical needs (fitness, yoga, pilates, tai chi, strength training, etc) to lectures, discussion groups, TED talks, art classes, jewellery making, current events and so much more. The moments between programs are full of socializing with residents, and catering to their social/emotional needs. We also garden weekly, bake 1-1 and do any activity the residents love doing.
Q. What was the highlight for you professionally in the last year? 
A. I have to say that working with my team to  teach over 50 residents how to use their computer and become savvy enough to attend daily zoom programs has been a highlight. Another highlight has been evolving our entire monthly calendar and all regular programs into programs that were enjoyable, well-attended and safe. Keeping the residents engaged in creative ways has enhanced my problem solving skills and my passion for what I do.
Q. What is a challenge for you or keeps you up at night thinking about it, in your current role?
A. The question: "how do I reach everyone and help everyone?"
Q. Do you have any mentors that have helped you in the progression of your career?  What is your approach to networking in this space?
A. Absolutely, I have been blessed to work with some incredible leaders and be surrounded by amazing people daily – my family, our residents, our general manager, management team and team members are beyond marvelous and inspire me daily.  
Q. What advice would you give to young people considering a possible career in the senior home industry?
A. If you wish to dedicate your life to a life of purpose, to feeding your humanity and being able to lift a soul on a daily basis, AND if you're willing to put in all the hard work to make that happen – then this profession is for you. Our work is a  work of love, sacrifice and sheer human connection – it's about finding ways to lift, nurture, inspire and heal all around you. Magic, isn't it?
Q. What do you like to do outside of work?
A. I love to spend time with my family and we've always enjoyed being active – nature bike rides, roller blading,  hiking, and exploring the beauty of Ontario. We also love to play board games, cards, and enjoy each other's company. I also  have many things I enjoy that I will be able to enjoy more after Covid – I love to swim, dance, martial arts training and socialize with my friends and family.
Q. In terms of your personal legacy, in a few sentences, describe how you want to be remembered by your family and friends?
A. At the end of my life, I would love it if those I am close to can wholeheartedly say: "My life is better because she was in it".
—