Helping Our Clients During COVID-19
Posted on April 19, 2020 by Continyou Care
We hope that you're all staying safe during these precarious and unprecedented times. We take our relationships with our clients extremely seriously, and we want to be doing everything we can during these difficult times to help out. Here are some of the ways we are looking to help our clients during COVID-19 – at no cost.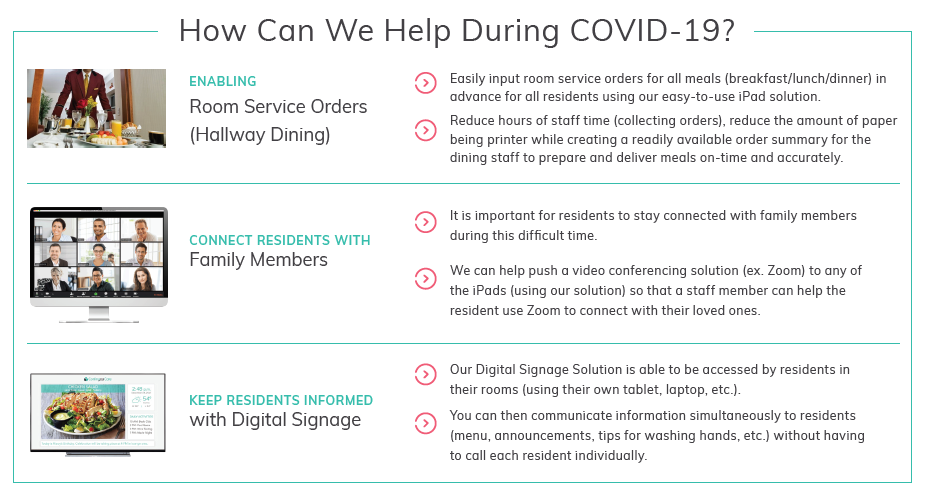 Enabling Room Service Orders or "Hallway Dining"
To help homes deal with the current Covid-19 situation, we have introduced a new enhancement in the Continyou Care app to help our clients to easily input room service orders for all meals (breakfast/lunch/dinner) in advance for their residents. This helps your staff members to select a resident once and select all meals for the following day to ensure all orders are taken in a timely fashion.
The benefits demonstrate the versatility of the solution and include:
Ensuring the continued safety of both staff and residents.
Maintaining a good experience for residents with a high level of efficiency in completing meal times.
Continuing to collect data on food consumption, etc.

Connecting Residents with Family Members

In addition, we understand how important it is for residents to stay connected with family members remotely at this difficult time.   We are working with homes to push Zoom (video conferencing solution) to any of the iPads that are currently being used to take orders.  Staff members can then help residents connect with their family members.
Sharing Announcements with Residents
Our Digital Signage solution (connected to core platform) are also able to be accessed by residents in their rooms (using their own tablet, laptop, desktop, etc.) which communicate information to residents (menu, announcements, tips for washing hands, etc.)