ContinYou Care's Newest Client: Richmond Hill Retirement Residence (Verve Senior Living)
Posted on June 19, 2017 by Thaves admin
We are excited to announce the newest addition to our list of clients, Richmond Hill Retirement Residence (part of the Verve Senior Living brand).
Richmond Hill Retirement Residence is a facility located in Richmond Hill, Ontario, just north of Toronto. The facility currently has 158 residents, 1 large dining room and 5 servers on staff on an average day.
"Richmond Hill Retirement Residence required an integrated solution that would improve their residents overall dining experience and their staff's ability to manage, track and share related information."
The home was rotating a 6-week menu cycle which consisted of 3 different menus which included printed menus, handwritten orders, and receipts while resident information (allergen and food preferences) was maintained in a spreadsheet in a binder. The manual process of collecting senior resident nutrition data was inefficient because of issues like wasted paper, mistakes with food orders, delays, inaccurate reports and limited access to reports for staff.
The Solution:
Implementing the Continyou Care food management platform become the optimal solution for the process in place at the home. Continyou Care is a food order management platform with POS functionality that allow staff to easily and efficiently process resident orders and track billing. It includes features such as "Bill to Resident" for any guests who were dining or having a drink at the bar.
"Through the use of the Continyou Care solution, staff are able to easily take resident orders, easily manage census, resident info, menu cycle, and initiate billing while also improving their ability to generate and share real-time reports via a secure cloud-based solution." – says Mike Ardianto (Director, Business Development at Continyou Care).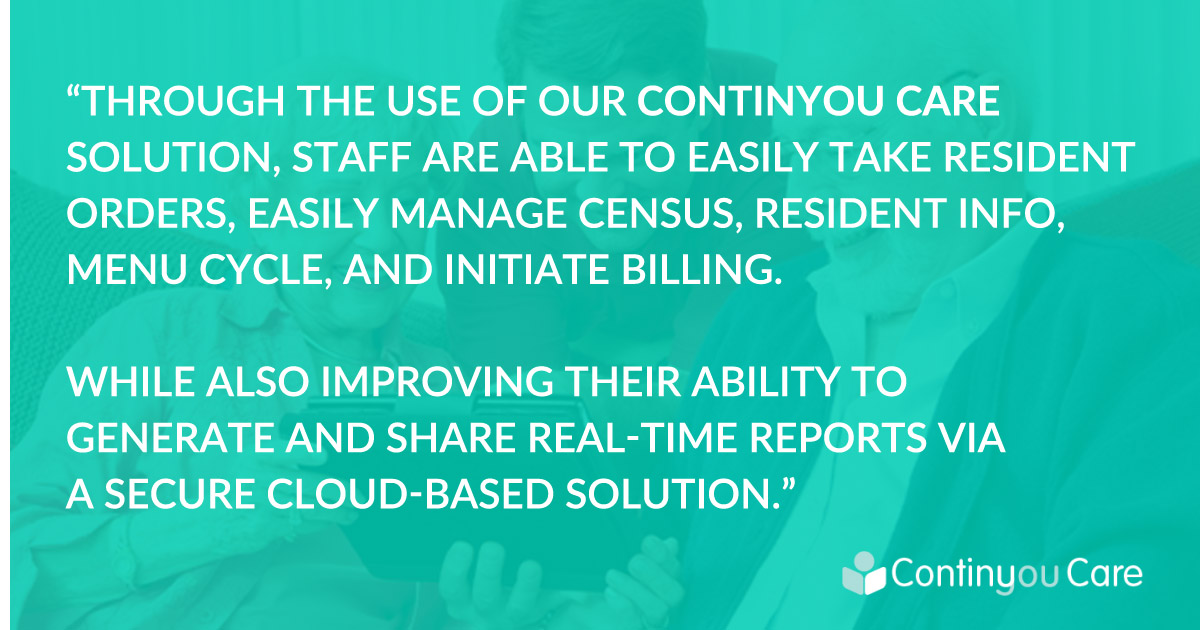 Richmond Hill Retirement Residence has seen a significant improvement in the efficiency of ordering, servicing and tracking. Management is able to see trends and forecast order details which allow for proper inventory of ingredients as well as being able to bring in fresh produce and meats. Some of the other benefits as noted by the Richmond Hill Retirement Residence are as follows:
Increased efficiency and staff engagement.
Standardized processes related to food services and census that establish accountability among staff.
Manage resident profile and menu cycle in a secure centralized location that can be easily scalable.
Integrated POS/resident management solution that enables homes to streamline resident billing from the bistro, dining and room service.
Reduce wastage through accurate forecasting based on residents dining history.
Reduce redundancies and manual errors to ensure the well-being of its residents.
Displays resident allergens on the chit printed in the kitchen.
The Continyou Care team is excited to be implementing our solution at more Verve Senior Homes over the next year.
Continyou Care is a secure and scalable platform that allows homes like the Richmond Hill Retirement Residence to focus on running their operations while we take care of their technology needs. Our vision is to change the way homes look at meal services and improving the quality of life for everyone involved in the process, including residents, staff and management.

Continyou Care is the Point-of-Sale (POS) of the future for senior homes and long-term care facilities. If you're interested in learning about how Continyou Care can be a great technology partner for your home, please email us at info@intelligotek.com.