Senior Living Spotlight Interview – Leigh Andrew
Posted on November 9, 2023 by Continyou Care
We are delighted to present the fourth interview in our ongoing series, delving into the realm of the senior home industry. In this discussion, we have the privilege of engaging with an accomplished professional whose journey from being a Registered Massage Therapist to their current role as a Regional Operations Manager at PARC Retirement Living provides unique insights into the industry's challenges and triumphs. Join us as we explore their experiences, perspectives, and unwavering commitment to enhancing the lives of seniors.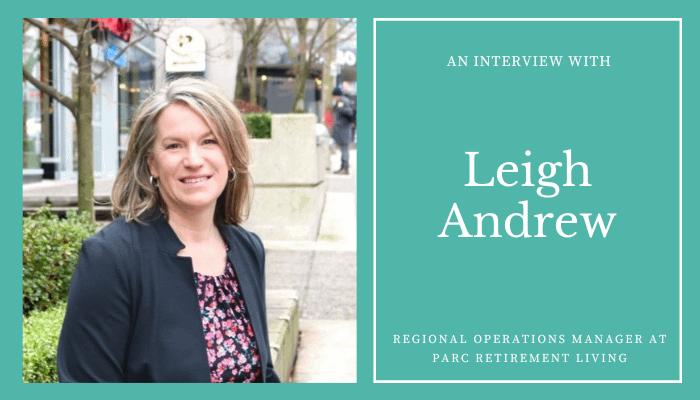 Q. What was the last job you did before you entered the senior home industry?
A. I worked as a Registered Massage Therapist.
Q. What is your role today?
A. I currently serve as a Regional Operations Manager at PARC Retirement Living.
Q. What does your typical day look like?
A. My day varies, either working from home, the office, or one of our sites.
Q. How has life changed for you personally and professionally after the COVID-19 pandemic?
A. In 2020, I began working as a Resident Services Manager at one of our 5 properties. With the pandemic creating challenges both in a senior's community and at home with my school-aged kids, I had to make the choice to step back from my job to support my children's needs. Fortunately, the company allowed me to continue doing project work from home. Over time, as things gradually opened up, I was able to pivot into a regional role that allows me to support operations for all of our 5 properties. I also work on developing an operations model for the next properties that will be opening in 2024 & 2026. Every day in my role brings new and unique challenges.
Q. What was the highlight for you professionally in the last year?
A. The highlight for me professionally in the past year was realizing that I could continue to support our communities even without being physically present every day. I successfully implemented two new software platforms at our sites, one of which is ContinYou Care POS+ system. This platform has allowed us to identify inefficiencies and enhance our high standard of service at our properties.
Q. What do you enjoy most about working in the senior living industry?
A. What I enjoy most about working in the senior living industry is getting to know our residents. Our residents are vibrant and have fascinating stories to share. I take pleasure in supporting them to continue living well, given the significant advancements they've witnessed in equal rights and the awareness of prejudices throughout their generation. Their experiences, spanning shifts in world philosophies and technological advances, are truly remarkable.
Q. What advice would you give to young people considering a possible career in the senior living industry?
A. I would advise young people to embrace and learn from the people they work with in the senior living industry. Being part of a community living environment where seniors can continue to live independently is highly rewarding.
Q. What is a challenge for you or keeps you up at night thinking about it in your current role?
A. The primary challenge in my current role is recognizing that this career is not solely about completing tasks; it's also influenced by the attitude each person brings to work. Consequently, I find myself constantly considering this aspect in all my work.
Q. Do you have any mentors who have helped you in the progression of your career? What is your approach to networking in this space?
A. Some of the managers I've closely worked with have been inspiring mentors. They have encouraged me to perceive team dynamics differently. Having been self-employed for many years, I rarely had the opportunity to strengthen my team collaboration skills. Working at PARC has reminded me of the time I spent competing when I was younger and the importance of truly understanding each team member to maximize their strengths and achieve results.
Q. What is your favourite book or podcast that you've read or listened to recently, and how has it impacted you?
A. The book "The Five Dysfunctions of a Team" by Patrick Lencioni has had a significant impact on me. It has helped me understand how to step into a dynamic group of individuals and create connections between them to facilitate their growth and collaboration.
Q. What is a new belief, behaviour, or habit that has most improved your life?
A. Being open and seeking to understand, rather than needing to be understood, has greatly improved my life.
Q. If you were given $1 billion, how would you allocate the money to change the world?
A. While $1 billion may seem like a substantial amount, I believe it wouldn't be sufficient to address all the world's challenges. However, I would direct the funds towards children, focusing on education, healthcare, clean water, sports, and food.
Q. If you had a chance to talk to your 16-year-old self, what would you tell them?
A. I would advise my 16-year-old self to slow down and savour life's moments.
Q. In terms of your personal legacy, in a few sentences, describe how you want to be remembered by your family and friends.
A. My grandfather began documenting his incredible life experiences in his 70s. His collection of stories encompasses travel, hard work, family challenges, and love. While I may have started documenting my experiences later in life, I hope my family and friends remember me as someone who contributed to the narrative of our shared history.

–
We'd like to extend our gratitude to our interviewee for sharing their valuable perspectives and experiences. It's inspiring to witness their dedication to the senior living industry. If you're interested in discovering more about our work or wish to schedule a demo, don't hesitate to reach out. We look forward to bringing you more compelling interviews that shed light on the remarkable individuals making a difference in the senior home industry.