#CareForSeniors Giveaway | Resident Winners
Posted on June 20, 2021 by Continyou Care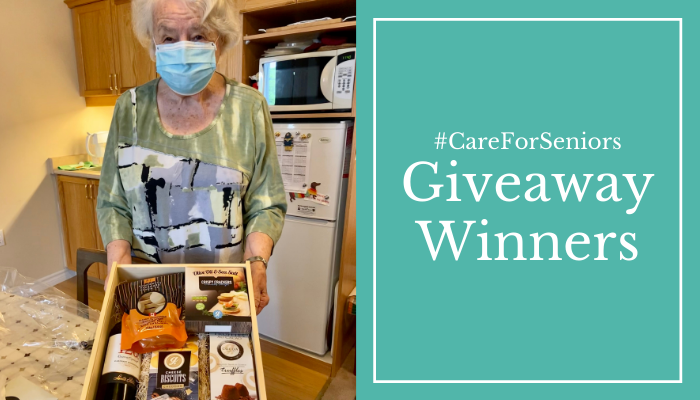 At Continyou Care, our mission is to improve senior lives through our resident-centric solutions. We are always looking for ways to #CareForSeniors in our community. As a result, last month we decided to give away personalized gift boxes to residents who needed some cheering up.
The stories submitted touched us so we wanted to share them with you. Please remember to be kind as you never know what people are going through.
—
Mrs. G
"She is undergoing cancer treatment and other medical interventions and is doing all she can to keep up her spirits and stay strong. She is also taking care of her husband through all this as his health has declined. She is my hero."
Mrs. S
"She has had a very hard time in this pandemic as the situation only increased her active grief of losing her husband. She is someone who deserves so much love and attention and I wish I could do more for her. I wish I could hug her and be able to take all that pain away. She deserves to be pampered and I'd love to surprise her with a gift!"
E.D
"She moved in during the pandemic and making a huge life change during such trying and uncertain times takes a lot of courage and resilience. I don't get enough chances to tell her how happy I am that she is with us and how her strength and resilience inspires me."
ZK
"She is one of those people who always greets you with a smile, a kind word and lifts your spirit, even though she is living with immense pain daily due to a medical condition. This pandemic has been so challenging for her as her only son is in the US and her separation from him has been so emotionally difficult. She keeps up her spirits with weekly ZOOM calls and maintaining her friendships with her neighbours within the community."
Mr. F
"Before covid, he was the most active resident, loving life and socializing with everyone. Over the last year, I have seen him deal with new ailments and feel the effects of isolation to the fullest. I want him to feel loved, I want him to know that so many people love him and that he is not alone in this fight. And that I am proud of him to for trying his best every day, no matter what."
I.D
"She has been a helping hand around the home since day 1! She has helped keep our library organized, looked after our gardens, assisted staff in any way she could and is always lovely to everyone. She is an amazing woman who isn't afraid to get her hands a little dirty. She recently has started experiencing some health issues and I would love to brighten her day as she has done for so many others. My favourite memory of her is from a day when we were all outside making flower arrangements and it started pouring rain. Everyone else ran inside and I.D stayed to help me clean everything up and we both got soaked. I hope to become half the woman she is someday."
—
Thank you to everyone who nominated a resident and helped us spread joy to Seniors in our community. It's our mission to improve senior lives, and we hope this small gesture can provide many smiles to deserving seniors. We see light at the end of the tunnel, but we still have to make sure #CareForSeniors is a top priority when protecting them from Covid-19. In the meantime, make sure to check in on the seniors in your life! A video or phone call, or even just a message, can go a long way!