Rachel Easterbrook: From Working At Her Family Restaurant To Helping Create Enjoyable Experiences For Residents During The Pandemic As The LivingWell Manager
Posted on May 29, 2021 by Continyou Care
We got the opportunity to interview Rachel Easterbrook who is the LivingWell manager at a lovely Retirement Home in Oakville.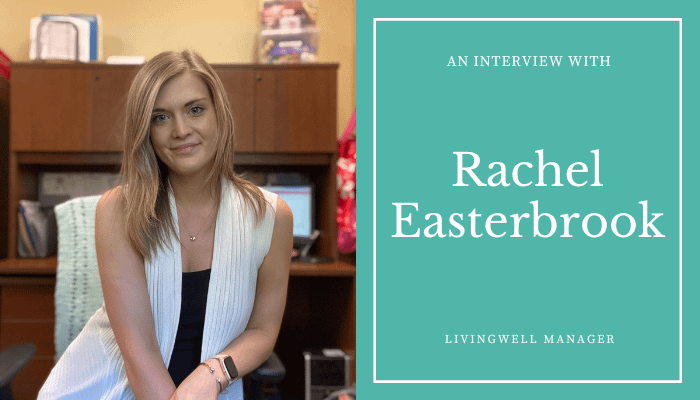 Q. What was the last job you did before you entered the senior home industry?
A. Before I started working in this industry, I worked in my family's restaurant Easterbrook's for over a decade. It was my very first job and taught me a lot about life and about people. Our family restaurant is something I've always been proud of, we've been in business for 91 years!
Q. What is your role today?
A. I am the LivingWell manager at a lovely Retirement Home in Oakville. in Oakville. My role is all about creating enjoyable experiences for our residents. I run events, fitness classes, games etc. 
Q. What was life like for you from a professional and personal point of view during COVID-19 at the beginning?  How about now?
In the beginning, I was pretty scared. I was working in a long-term care home at the time and I remember the day they told us we had to wear a mask and goggles at work. I had never worn a mask before and I cried my eyes out, I was so overwhelmed. I left every day with a migraine and indent marks on my face, contemplating if my job was worth risking my health. It took a long time to get used to. I've worked through several Covid-19 outbreaks since then and witnessed firsthand how devastating it can be. There were days where I wanted to quit because I was so afraid but I had to think about the residents I was working to protect and ultimately I stuck it out. Now, working for this Retirement Home I feel completely safe and secure. The Retirement Home has done an exceptional job at protecting its staff and their residents during the pandemic. PPE is widely available, there is great communication and good solid procedures in place to protect everyone. Now that we are all vaccinated, I can see the light at the end of the tunnel. 
Q. What is something you're itching to do once the pandemic has been controlled safely?
A. Get married! I got engaged a few weeks before the pandemic started in 2020 and have moved my wedding date 3 times now. There are so many family members and friends who I haven't seen in over a year and I can't wait to celebrate with all of them again.
Q. What does your typical day look like? 
A. There is no 'typical' day for me anymore. Every few weeks, Covid restrictions change and it directly impacts my job and what I am able to do. As LivingWell manager, my role is all about bringing our residents together and having fun. I'm sure you can imagine how difficult it has been to do that over the last year. Once I start getting a routine going, the rules change, and then they change again. In normal circumstances, my day would involve running fitness classes, organizing in-house entertainment, calling BINGO, running happy hours, booking guest speakers, taking our residents out on bus trips – you name it! Right now, I am constantly having to think outside the box, get creative and do what I can to bring some joy into our resident's lives.
Q. What was the highlight for you professionally in the last year? 
A. Getting my role at this lovely Retirement Home in Oakville for sure, it is my dream job.
Q. What advice would you give to young people considering a possible career in the senior home industry?

A. Leave your bias at the door. People have this stereotypical idea of what seniors are like and that couldn't be further from the truth. I work with people in their late eighties and nineties who enjoy intellectual conversations, drinks on the patio, watching Netflix, going to the cottage and working out.  They are no different than you or me and should be treated as such.
Q. What is a challenge for you or keeps you up at night thinking about it, in your current role?
A. I just hope that our residents enjoy the things I plan for them. I try really hard to create enjoyable experiences for them and I worry they won't like my ideas. Things don't always go as planned and sometimes you just have to go with it!
Q. Do you have any mentors that have helped you in the progression of your career?  What is your approach to networking in this space?
A. Yes, my coworker Karen, who is our LivingWell coach at a lovely Retirement Home in Oakville. Karen has been there for me both as a friend and a mentor. She welcomed me and showed me the ropes when I first started. I owe a lot of my success to her. Karen taught me a lot about the industry and on how to be a good manager.
Q. What is a new belief, behaviour or habit that has most improved your life?
A. Walking. I never exercised much and decided in 2020 I was going to join a gym for the first time in my life. Well, then the gyms closed and I was left to come up with another way to incorporate movement into my life so I started walking. It's grown to become something I quite enjoy doing and it forces me to get out of the house during these lockdowns when there is not much to do.
Q. If you were given $1 billion, how would you allocate the money to change the world?

A. I would use the money to put air conditioning into all the long-term care homes in Ontario. There are people living in our community who are unable to walk to the fridge and grab a cool drink or jump in a pool when they get too hot. Many long-term care residents will overheat this summer because they do not have easy access to a cool place and I think that needs to change. 
Q. In terms of your personal legacy, in a few sentences, describe how you want to be remembered by your family and friends?
A. I want to be remembered as somebody who was passionate and caring. I want my legacy to be the work that I do with seniors in my community. 
—
This interview is the first of many that we hope to share in a regular series we will be doing highlighting different stories of people who work in the senior home industry.  If you know someone we should highlight – please click here to nominate that individual.