PointClickCare Integration & Other Product Updates
Posted on August 13, 2020 by Continyou Care
We wanted to highlight some of the product features that we've made improvements to over the last few months, especially during the height of COVID-19, when we heard from a number of current and prospective clients on what they were looking for.  
Integration with PointClickCare

When a new resident is set up on PointClickCare (PCC), the changes to dietary/nutrition information is automatically pushed onto the Continyou Care platform, making life easier for everyone!
No More Double-Entry

– When a new resident is onboarded in PCC, the resident details are automatically pushed to our system.

Automatic Profile Updates

– Any ongoing changes to resident profiles are automatically synced to our system to reflect on the tablets. For additional supplements.
Health & Wellness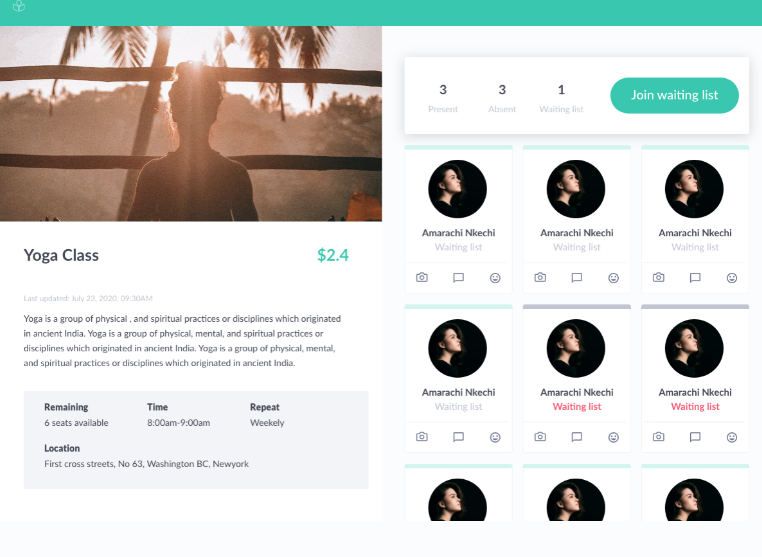 We've added a number of new features in the area of Health & Wellness.  Due to COVID-19, we've made it easier to register residents for activities/events with a waitlist feature.  This feature was added as unfortunately, many social activities now need to be run at a reduced capacity to ensure the participants' safety. We've also added the ability to track attendance of these events and made it easy to compile resident feedback on an activity/event. 
We've also digitized onboarding forms, which means that a resident's information can now be gathered, stored, and retrieved easily from anywhere, be it a desktop, tablet, or phone!
Easily Build Activity Calendars

– Input and modify activities (including recurring) in minutes. 

Event Documentation

– Collect feedback, document comments, and take pictures to document for internal or external sharing.

Integration With Digital Signage

– Activities automatically get pushed to live screens when changes are made.

Data Insights

– Use activity attendance and notes to build out a robust activity calendar based on resident input.
Maintenance Request Tracking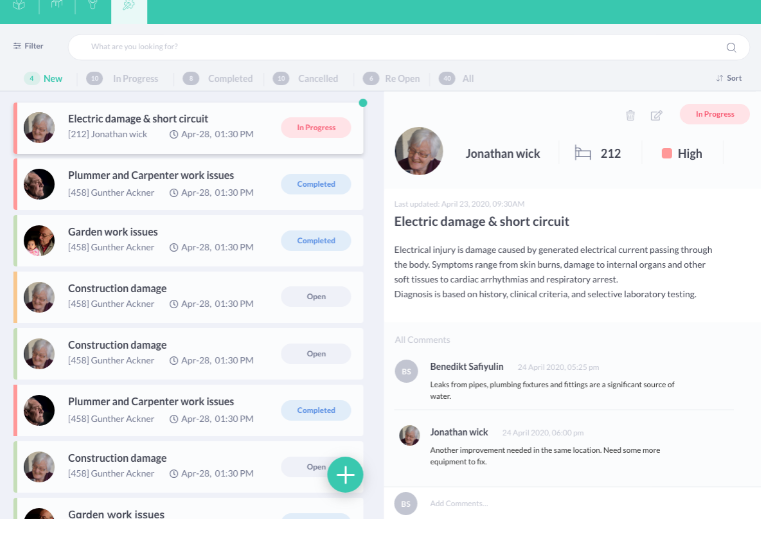 We listened, and we've added more functionality so that it's possible to track maintenance requests all the way from the beginning to the end. Also, we have created a mobile-friendly (we know that's important!) portal for maintenance staff to receive notifications about new requests. 
Digitize Requests

– Quickly document resident requests versus relying on the outdated paper-and-pen process. 

Real-Time Updates

–

Track requests from beginning to end and be able to provide updates to residents at any time.

Mobile Access for Maintenance Staff

– Staff able to view and updates requests easily on their phones from anywhere in home.

Track Billable Requests

– Easy to assign any billable requests to the appropriate resident.
Digital Signage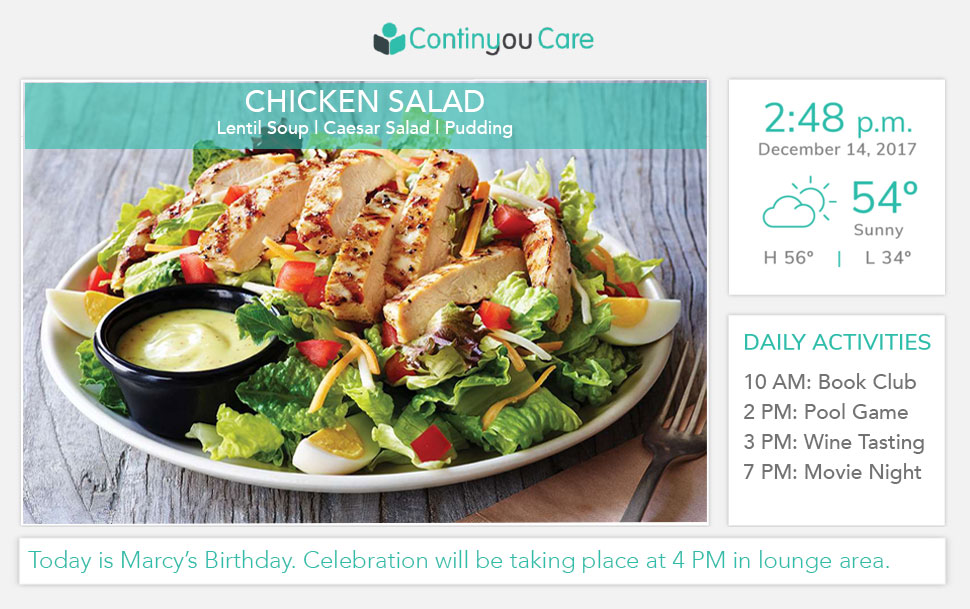 Digital signage is one of our key features, making it easy to show off any special announcements, menus for the day or daily activities to your residents – simply by updating your digital signs with our user-friendly tools. To build on this, we've integrated our digital signs with our tableside meal ordering module where menus can be automatically pulled and displayed on TVs. We've also added integration with the Health/Wellness module where activity schedules can be displayed automatically on the screen, and we've added the ability to display videos in addition to images. Think of all the new possibilities for your digital signage!
Daily Menus

– You will be able to show daily menus including pictures (automatically pulled from CC system).

Daily Activities

– Remove, change, add, and program daily activities in minutes (including automatically pulled from CC system).

New Residents and Birthdays

– Welcome new residents and celebrate special days.

Video Playback

– As some messages are easier conveyed with video versus text.

News & Notifications

– Run your own news and relevant messages that matter for the home.

Daily Weather Forecast

– To ensure that your residents are always prepared for the weather.
Continyou Care
We're committed to constantly improving our solutions and will continue to do so. If you would like to find out more about the changes made today and are interested in a demo of our product,
you can contact us here!